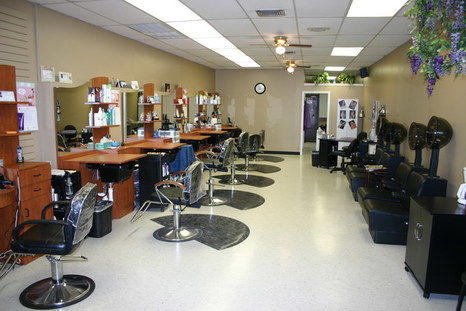 South Tech's Cosmetology Adult Education Program is one above the rest. In our adult cosmetology program, we have a wealth of knowledge to offer our students. Our evening instructors work diligently with all of students—in pursuit of becoming the best of the best.We offer Level I, II and III Cosmetology classes, as well as Family Hair-cutting & State Board Review. These courses are designed to help the working career-focused adult achieve goals in our lucrative profession. Cosmetology program completers will be eligible to take the Florida Cosmetology State Board Exam. Passing the exam qualifies individuals to be certified cosmetologists in the State of Florida, thus opening doors to rewarding careers.
As a cosmetologist you will be a trusted professional so your clients will rely on you to provide them with on going services. You want to be able to make them look and feel their best.
This class provides you with the information you will need to pass the license exams as well as the most contemporary techniques to ensure you success once you are on the job.
The classes will cover:
Cosmetology Sciences
Hair Care
Skin Care
Nail Care
Salon Business
---
The required textbook, which includes a CD, is Milady's Standard Book, is designed to reinforce classroom learning and to help students prepare for the Board Exams.
In approximately 2 years, students can complete this 1200 hours night school course and pass the Florida State Board Cosmetology licensing exam. To graduate, students must meet all attendance, assignments and practical laboratory course requirements of which 26% consist of technical instruction and demonstration. The balance of the course consists of laboratory experiences during which students develop and use cosmetology skills under the supervision of licensed instructors.
This a lecture-lab course in which topics are presented by the instructor. Practice demonstrations are explained and examples are assigned and are to be completed by the students during lab periods and outside of class. Curriculum Includes:
Florida Law
Hair Coloring & Bleaching
AIDS 101
Chemistry, Sanitation, Shampoo & Scalp Treatments,
Hair Styling & shaping
Permanent Waving Properties of Hair & Scalp (HTTM)
Chemical Relaxing
Extensions
Skin Care
Facials
Pedicure and manicure
Salon and Shop Management
Ethics & Salon Retailing
Pre-registration requirements include a high school diploma, a GED, or a TABE Test score at 8th grade reading and language levels.
For more information Contact: Patrice Marsh
Program Coordinator of Adult Education Cosmetology Program
Email address- Carolyn.smith-marsh@pbcharterschools.org​
Phone Number- 561-364-7922
Fax Number - 561-369-7024