CPR courses every Thursday!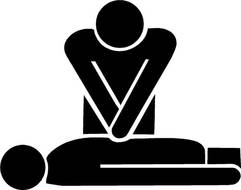 Basic Life Support or Heartsaver AED

All classes are from 5-9pm

Cost: $50.00

Contact: (561) 964-4141


---
​PROFESSIONAL MEDICAL EDUCATORS, INC
BLS for Healthcare Providers Provider and Renewal Course
The BLS Healthcare Provider Course is a 3 to 4 hour course that gives any healthcare professional the ability to recognize several life-threatening emergencies, provide CPR, use an AED and relieve choking quickly and safely. This course is intended for any licensed or non-licensed professional. All students are encouraged to come to class with the most current book, which may be purchased on our website bookstore at www.promeded.net. To receive a BLS completion card, students must successfully complete a written and practical exam.

Heartsaver First Aid with CPR and AED
This course is designed for people who have been assigned to respond to emergencies, as well as people who want to learn first aid, CPR and AED skills. This 4 hour course provides students with the necessary skills to effectively assess and maintain life from the critical minutes immediately following an emergency until the arrival of emergency personnel. This course gives corporations a complete curriculum for offering first aid, CPR and AED training at their facility. Many first responders must take this course as part of their employer's ongoing efforts to comply with OSHA regulations. This course is also open to any individual who simply wants the training.

Heartsaver AED
This course is designed for the responder who has a need to obtain a credential card documenting successful completion of the course. The Heartsaver AED Course teaches all lay rescuers when to phone 911, how administer CPR, how to use an AED, and how to provide relief of choking. Other course topics include:
• How to identify & perform emergency resuscitation techniques for a stroke victim
• How to identify & perform emergency resuscitation techniques for someone experiencing a heart attack
• How to identify & perform emergency resuscitation techniques for someone in cardiac arrest
• Infant, child and adult choking
• How to prevent injuries
• Understanding and using barrier devices

Standard First Aid
This course is for lay people and others interested in expanding their knowledge in First Aid. Some topics covered in the course: respiratory emergencies, CPR, bites, stings, poisonings, treating shock, splinting, bleeding control, bandaging, general patient care, burns, and care of the pediatric patient.

Heartsaver First Aid
Heartsaver® First Aid is a classroom, video-based, instructor-led course that teaches students critical skills to respond to and manage an emergency in the first few minutes until emergency crews arrives. Students learn skills such as how to treat bleeding, sprains, broken bones, shock and other first aid emergencies.


Heartsaver Pediatric First Aid, CPR & AED
The Heartsaver® Pediatric First Aid CPR AED course teaches child-care providers and others to respond to and manage illnesses and injuries in a child or infant in the first few minutes until professional help arrives. The Heartsaver® Pediatric First Aid CPR AED course is intended for people who regularly come in contact with infants and children, including: child-care/day-care providers, parents, grandparents, nannies, babysitters, teachers and other educators.


CPR For Family and Friends
The Family & Friends CPR program contains info on how to perform the basic skills of CPR in adults, children and infants and how to help an adult, child or infant who is choking.

This classroom-based, video and instructor-led CPR course offers families, friends and community members the opportunity to learn basic CPR in a dynamic group environment.

The Family & Friends CPR program is for all family members, friends and the general community who want to learn CPR but do not need a course completion card. This program is specifically designed for those who prefer to learn in a group environment with feedback from an instructor.

CPR in the Schools
This course could be the most valuable lesson any student can learn: how to the learn the simple steps of CPR & save the life of a loved one, teacher, or friend. Knowing CPR can double or triple a cardiac arrest victim's chance of survival.

CPR can make the difference between the life and death of a loved one. The American Heart Association offers a comprehensive portfolio of both credentialed courses and awareness programs to train middle and high school students. With options for adult, child, and infant CPR, relief of choking, and use of an AED (Automated External Defibrillator), the AHA has a training solution to meet every school's need!